For many years, the decision to drop out of college to pursue an online career was considered to be foolish and self-destructive by conventional wisdom. It was no different when Evan Fong, popularly known as VanossGaming, dropped out of college to pursue a YouTube career.
However, that radical move paid off, and he stands shoulder to shoulder among the most successful personalities on the platform. He has expanded his online career from pro-gamer to creative directing and voice acting, bringing Vanoss significant wealth and making his parents proud.
His Online Stardom Started from a Playful Idea
VanossGaming was born on the 31st of May 1992 in the Canadian city of Toronto. As a child, he grew up playing ice hockey and became quite skilled at it. Due to his love for ice hockey, Evan did not pay much attention to video games. He only played them sparingly, and the games he played were kiddies puzzle and adventure games such as Freddi Fish, Pajama Sam, and Duke Nukem 3D.
VanossGaming had his education at Richmond Hill High School before moving to the states where he enrolled at the University of Pennsylvania to study Economics. He created his YouTube channel on the 15th of September 2011 and started uploading videos of him and his friends playing video games while he provides funny commentaries. His earliest videos involved games such as Modern Warfare 3 and Black Ops 11, before moving on to Grand Theft Auto V and Garry's Mod.
Fong's comic montages proved to be a big hit and two years after creating his channel; he reached the 1 million subscriber mark. After attaining the milestone, he dropped out of school and made his online endeavors a fulltime commitment.
His decision to drop out was met with concern from his Korean mother and Chinese father. Although they acknowledged the potential of the venture, they were worried he was giving up a sure thing for a life of uncertainty.
Becoming an International Star On YouTube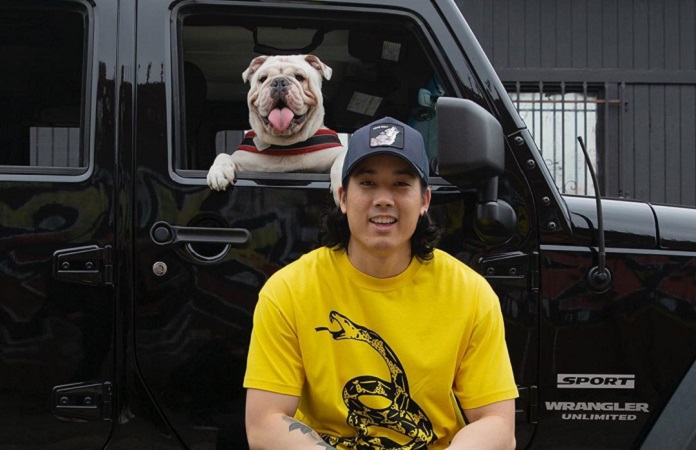 Despite the understandable concern, Evan Fong's decision paid off. With plenty of time devoted to nurture his channel and improve content quality, his channel grew to be one of the most viewed on YouTube. He reportedly adds an average of 3000 subscribers and 3 million viewers every single day.
His growth came not just from his skill as a gamer and his humorous commentaries, but also the mystery of his identity. He rarely showed his face, and for a long time, he was only identifiable by his channel's logo, an owl head. VanossGaming revealed his face for the first time when he reached one million subscribers in 2013, three years after creating the channel.
https://www.youtube.com/watch?v=bNsgQGyVmY0
One year after, he reached 7.6 million subscribers, gaining 6.6 million subscribers within a year. From 2015 to 2016, he held the record for the second most subscribed gaming channel on YouTube, behind PewDiePie. Within the same period, he also held the record for most subscribed Canadian channel, before his eventual eclipse by JustinBieverVEVO. So far, VanossGaming has more than 25.1 million subscribers and has more than 13 billion views.
His exploits on YouTube have not gone unnoticed. In 2014, he received a nomination for the trending gamer award at The Game Awards. He was also a panelist at the 2015 YouTube Gaming Convention held in Boston, Massachusetts. Also, in 2016, he received a nomination for Tech and Innovation under the Gaming category of the Shorty Awards.
The Secret Behind His Remarkable Success Story
VanossGaming has been able to build a vast following and billions of views with a content strategy that involves showcasing the camaraderie of playing video games with friends in montages. Since creating the channel, he rarely posts videos of himself playing alone.
YouTube Friends! Assemble! #E32014 pic.twitter.com/Lnzh9lMxvM

— Lui Calibre (@LuiCalibre) June 11, 2014
He plays with his friends, some of whom are YouTube celebs as well. His childlike humor attracts both the young and old, and he boasts of one of the friendliest fanbases on YouTube. This unique combination of traits has kept him among the most popular channels on the video-sharing platform.
As for his name, which has become a brand on its own, it was inspired by his father, who in turn, was inspired by BMW's variable valve timing system, VANOS. His father used the name (vanoss62) as his alias on video games, and Evan Fong adopted it when he created his channel.
How Much Has He Made from His Career?
The millions of subscribers that VanossGaming has, as well as the billions of views he gets, translates into big bucks; thanks to the monetization policy of various social media platforms. According to numbers crunched by Naibuzz, his channel makes up to $20,000 in revenue per day from YouTube advertising, adding up to $7.3 million a year.
He also sells merchandise, and although the exact figures are yet to be determined, it gives VanossGaming a substantial income based on the broadness of his fanbase. In addition to revenue from merchandise and YouTube ads, he also has private sponsorships from companies like Ubisoft, The Division, EA Sports, Best Fiends, and Monster Legends.
In 2017 alone, he made $15 million from YouTube, and it rose to $18.5 million in the following year. Although his revenue dropped in 2019 to $11.5 million, he remained one of the highest-paid personalities on the platform. All of these have made Evan Fong wealthy, culminating in an estimated net worth of $25 million.
Evan Fong's Ventures Outside of YouTube
His YouTube career may have made him a famous name, but it is not his only venture so far. His other ventures include Dead Realm, a 2015 video game that he created with some friends. He has also lent his voice to a YouTube animated series, Paranormal Action Squad.
VanossGaming also has a music career, which he nurtures via the stage name, Rynx. He has a record label called Avant Garden, under which he releases his music. He has released original songs like Want You, Hold On, Read my Mind, and Club Poor.
His discography includes remixes of popular songs like Alison Wonderlands' Cry, Olivia O' Brien's Love Myself, and Sean Paul's Contra La Pared. Rynx has so far released one studio album and six singles.
Dissecting VanossGaming's Personal Life
VanossGaming continues to maintain a private life, but since he became a public personality, some details have emerged about him over the years. He is half Chinese and half Korean.
Other than his father's inspiration for his YouTube channel, there aren't a lot of details about his family. As for his love life, while it is presumed that he has a girlfriend, her identity remains unknown.
He rarely reveals his face except for special occasions. One of such is the ALS ice bucket challenge in 2014. Instead of ice water, he poured a mixture of ice cream and other iced drinks on himself.
Evan Fong lives in Los Angeles, California. This gamer has an eclectic taste in music and loves diverse genres such as rap, electronic, and rock music. His favorite game is Call of Duty 4: Modern Warfare. Evan loves TV shows such as Breaking Bad, Dexter, and SpongeBob Squarepants.