Popularly known for his acting skills, Wilmer Valderrama has also played perfectly as a producer, music artist, media personality, and a businessman. The popular entertainer is among the many actors and actresses who grew up on the screen as he started acting way back in his high school days.
Ever since Wilmer landed his big break on the set of That '70s Show in 2011, he has gone ahead to achieve wider popularity, stealing the hearts of several ladies in the process. Thus, his dating timeline has a lot of activities to keep the gossip mill buzzing at all times.
Wilmer Valderrama Got An Early Start As An Entertainer
Born in Miami on the 30th of January 1980, Florida Wilmer Valderrama had no interest in the performing arts as a growing lad but records have it that he started acting while he was a student at William Howard Taft Charter High School. During those days in high school, Wilmer made an open display in the live play A Midsummer Night's Dream and also in another play titled Rumor. Later on, the Colombian-Venezuelan American actor appeared for the first time on TV, taking the part of an actor in the Spanish Language Pacific Bell Commercial.
As a senior in high school, Wilmer Valderrama got the role of Fez in That '70 Show which aired on Fox TV from 1998 to 2006 when it was cancelled. In 2003, he appeared as DJ Keoki in the movie, Party Monster, and also had a role in the play, Drunks that same year. Wilmer joined the cast of the short film, La Torcedura, and played a role in the movie, The Darwin Awards (2006).
He Found His Forte As A Producer While Still Acting
As a producer, Wilmer Valderrama has worked on a few movies and has also been credited for most of them. He produced and served as a host on MTV series, Yo Momma – aired from 2006 to 2007, and was featured thrice on the show, Punk'd.
Wilmer has contributed immensely to Disney Channel. He voiced Rodrigo in the movie, Clifford's Really Big (2004) and played Manny in the Disney Channel series Handy Mandy from 2006 to 2013. Wilmer was also the voice behind Gaxton in the 2020 Disney film Onward. The family animated movie Charming gave him a voice role as Prince Charming. He had a starring role in El Muerto – a comic based movie and was guest-starred on Disney Channel's series, Wizards of Waverly Place in 2010. In 2011, Wilmer appeared in three episodes of USA Network's Royal Pains as Eric Kassabian – an art dealer.
The famous actor was part of the cast of From Dusk till Dawn: The Series from 2014 to 2016, portraying the character of Carlos Madrigal. The same year he left the series, he appeared in recurring roles in The Ranch and on Grey's Anatomy. The actor is currently with NCIS which he joined on the 16th of June 2016 as part of the major cast – depicting Special Agent Nick Torres.
His movie credits also include Beauty Shop (2005), Fast Food Nation, and Unaccompanied Minors both released in 2006, 2011 Larry Crowne, and 2015 The Adderall Diaries.
Wilmer Later Delved Into Music And Fashion
Besides acting, Wilmer has also made a name for himself in the music world. Sometime in 2011, he released his first single titled The Way I Fiesta where he performed with Eduardo Fresco. Wilmer Valderrama also made an appearance and also produced the music video Sexy and I Know It, a song by LMFAO. The music artist is not limited to producing and singing English songs alone, he has also made a few music gigs in Spanish.
Apart from his credits in the world of performing arts, Wilmer has trodden the path of business. He founded a men's fashion label known as Calavena in 2010. The actor is also a philanthropist who has directed several prostate-specific antigen awareness for different organizations. Wilmer is equally a spokesman for the Congressional Hispanic Caucus Institute and is the founder of their Ready 2 Lead program.
Wilmer Valderrama Earns Handsomely From All His Endeavors
With his fingers in so many pies, one would not be surprised to hear that Wilmer Valderrama has amassed a huge fortune. Though his annual take-home is not known, the multi-talented actor has accumulated a net worth in excess of $20 million.
It goes without saying that the majority of the actor's fortune came from his career in acting. However, his gig in the music industry has contributed quite a tidy sum. Besides, the famed actor has moved into the fashion industry with a clothing line business that has the potentials to be a money-spinner in no time at all.
The List Of Wilmer Valderrama's Girlfriends Is Quite Lengthy
Wilmer Valderrama is a veritable casanova with a list of girlfriends that keeps extending with time. However, things seem to be taking a different turn as he recently got engaged but before taking that bold step he was linked to several women.
1. Amanda Pachecho (2019-Engaged in 2020)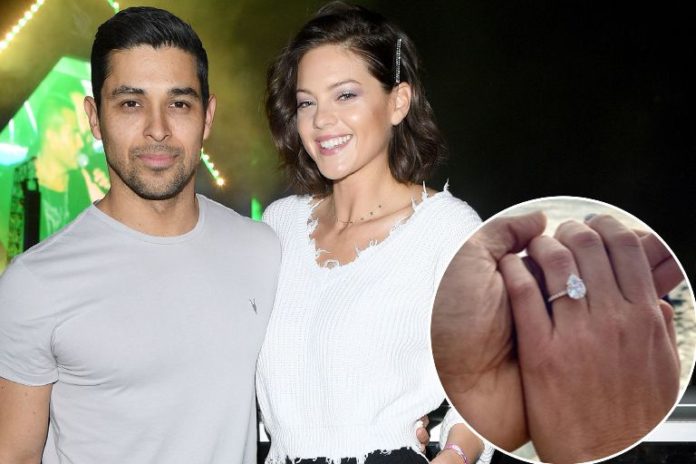 The latest among Wilmer Valderrama's girlfriends is model Amanda Pachecho, their dalliance which took off in May 2019 graduated into an engagement on the 1st of January 2020. With photos of the proposal captioned "It's just us now 01-01-2020" shared with fans on social media.
2. Lindsay Lohan (2002)
Even though actress Lindsay Lohan and Wilmer Valderrama dated for four months in 2002, the duo was one of the most beloved couples at the time who had fans raising speculations about their future as they were engaged for two out of those four months. They even cohabited before their relationship hit the rocks.
3. Demi Lovato (2010-2016)
Singer Demi Lovato and Wilmer Valderrama sure earned a place among the most famous couples in history, making significant headlines worldwide. Lovato once referred to him as her greatest love as their relationship lasted for a long time from 2010 to 2016, but that feeling was obviously not reciprocated by the actor who broke her heart and moved on with his randy lifestyle.
4. Minka Kelly (2012)
Minka Kelly is another actress who fell for Wilmer Valderrama's charm; their affair which took off in 2012 lasted briefly. However, they still remain friends to date, even when the actor returned to Lavato after breaking up with her.
5. Mischa Barton (2014)
The O.C star Mischa Barton dated Valderrama in 2014 which was the height of her acting career. The actress went through one of the most trying periods of her life when they eventually called it quits.
6. Ashlee Simpson (2005)
Wilmer Valderrama's affair with pop sensation, Ashlee Simpson happened in 2005 after which the actor went ahead to share intimate details about their time together with Howard Stern.
7. Mandy Moore (2001-2002)
Actress/singer Mandy Moore had Wilmer Valderrama as her first real boyfriend when she was just 16 between 2001 to 2002, but the hunky star was not good to her. He went on Howard Stern's show to make some really wild claims which hurt Mandy, but they are still friends to date.
Read Also: Who is Michael Provost, What is He Known For and How Old is He?
8. Majandra Delfino (2000-2001)
Roswell, star Majandra Delfino was an item with Valderrama between 2000 to 2001. When their split eventually happened, the actor didn't have any qualms moving on with his life.
9. Ariana Richards
Wilmer Valderrama just turned 17 when he became actress Ariana Richards' boyfriend. Ariana was equally young at the time which is probably part of the reason they didn't last, considering how often young couples grow apart.
10. Jennifer Love Hewitt (1999)
While on Howard Stern's show, Valderrama mentioned Jennifer Love Hewitt's name as his 1999 girlfriend. Though this claim was denied by Hewitt, the actor still mentioned that their relationship was quite steamy, rating her with an eight.
This list might appear too long but this may not be the end, there are still several unconfirmed relationships credited to the entertainer. The list of his rumoured girlfriends is quite long with the likes of Rihanna, Chantal Jeffries, Monica Alvarez, Sofia Vergara, Jessica Biel, Eva Longoria, Christina Milian, Scarlett Johansson, and Mila Kunis making the cut.